limited edition RUG
ARTIST IN YOU
After the success of their first collaboration, textile designer Lorena Canals and renowned urban artist Edgar Plans are teaming up again to present a new limited edition piece "ARTIST IN YOU". A unique, handcrafted rug with only 250 numbered pieces. Get to know this masterpiece where textile meets art.
#EDGARPLANSXLORENACANALS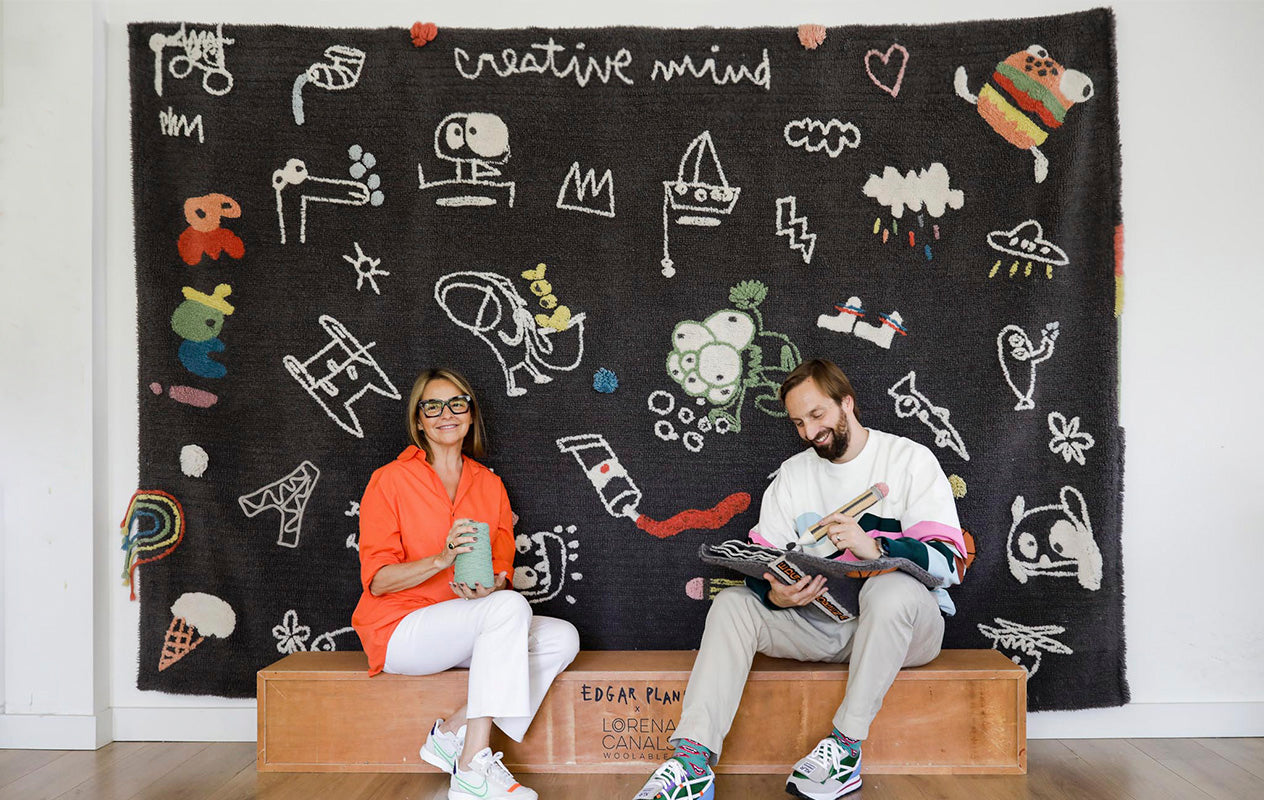 lorena's love for art
Lorena Canals comes once again to the world of art as one of her greatest passions, to create a new wool rug - hand in hand with the artist, Edgar Plans. 
Since 1998 Lorena Canals has transformed everything she sees into textile decor, creating sustainable designs for the coolest homes around the world. Always choosing natural raw materials and innovating one step ahead with her creations. 
"I have always wanted to be an artist, and I have done it through textiles," - Lorena Canals.
COMES WITH A UNIQUE BOOK
Every rug comes with an exclusive handcrafted textile book, crafted with the same natural fibers as the rug, and showcasing Edgar's exceptional universe. Collect it as an art piece together with the rug.
Edgar is an acclaimed international artist. His urban-inspired art, filled with iconic characters of his own, is present in the most prestigious museums and art fairs worldwide.
"I have always liked street art, urban art. It is an art that runs free, just like when children create. And I wanted to transform it to capture it in my paintings." – Edgar Plans.
about lorena canals
Founded in 1998 in her garage and up until today, Lorena Canals is the creator of the washable rug concept. 
The brand offers rugs, accessories, and textile toys sustainably handcrafted with natural fibers, both for home and kids' decor .
HANDCRAFTED TEXTILE ART
Every lorena canals piece is handcrafted by skilled artisans in our own factory in india. A unique artisan piece, carefully designed by lorena canals herself and sustainably handcrafted in our factory with natural fibers, non-toxic dyes, and a firm commitment to the planet and people.